Turning Life Around
(2008, 28 mins, DV)
The film, Turning Life Around, documents a development programme in Gadchiroli district, eastern Maharashtra. The setting up of a women's credit cooperative bank, women's growing involvement in local level government (or panchayati raj) and the establishment of a successful barefoot doctors programme run by women, are the highlights of this project.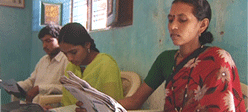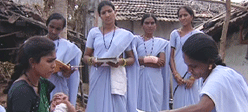 A host of local NGOs run these programmes, started in 2002, including the Indian Institute of
Youth Welfare (IIYW) based in Nagpur and Ami Aamcha Arogya Saathi, a health NGO, in Gadchiroli.
Pratham, a well known educational NGO, trained educationalists in the programme.
Written and Directed by: Teena Amrit Gill
Camera: Avijit Mukul Kishore
Sound: Girjashanker Vohra
Post-production Sound: Asheesh Pandya
Editing: Shikha Sen
Commissioned by: BILT
Trailer: Turning Life Around from Teena Gill on Vimeo.