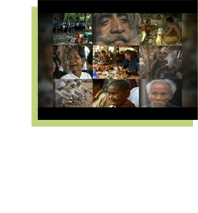 Teena Gill is an independent filmmaker and journalist based in New Delhi, India with an academic background in Gender and Development Studies.
Her film work has focused on various subjects including pesticide poisoning, women and religion/faith, HIV/AIDS, the media representation of older people, eco-tourism, violence against women and primary education. Some of her work was produced for HelpAge International and Young Asia TV (Colombo). Her present ongoing project is on gender, woman practitioners and agency in early and contemporary Buddhism in the Himalayan region of India, commissioned by the Indira Gandhi National Centre for the Arts (IGNCA), Delhi.
Her independent film 'Orange Alert' on pesticide poisoning and the organic farmers movement in Thailand, won the Juror's Special Prize at Earth Vision - the 15th Global Environmental Film Festival in Tokyo, Japan, and has been screened in numerous festivals in India and abroad including Vatavaran Film Festival, New Delhi, International Women's Film Festival (IWFF), Kolkata, Quotes from the Earth, New Delhi, ViBGYOR International Film Festival, Thrissur, Kerala, Viva Gaia! Film Festival - Filmstudio, Roma, International Campaign for Justice in Bhopal Film Festival. It has been distributed for broadcast and academic purposes across Southeast, East and South Asia by Earth Vision, and The Television Trust for the Environment (TVE-Asia-Pacific).
She made a series of four films for OxfamGB and its partner organisations for the 'We Can End Violence Against Women Campaign' in India, which was widely distributed and used especially on social media, and the internet.
Her film 'Young Hopes in Elderly Arms' was selected for screening at the XV International AIDS Conference in Bangkok, Thailand, and shown widely by Health and Development networks.
Her earlier work is set in Thailand and South-east Asia where she lived for 11 years.
'White Robes, Saffron Dreams', on the discriminatory treatment of women in Thai Theravada Buddhism, is her second independent film. It premiered at the London Feminist Film Festival and won the First Prize: Documentary section, Central Illinois Feminist Film Festival, USA. It has shown in numerous other festivals including VIBGYOR Short & Documentary Film Festival, Thrissur, Kerala, Asia Pacific Feminist Forum (APFF), Chiang Mai, Paris International Feminist Film Festival, International Film Festival Colombo.
She is currently residing in India
This site is best viewed with Firefox
Download here